Product Summary
The HGTG30N60A4D is a kind of MOS gated high voltage switching device. It combines the best features of MOSFETs and bipolar transistors. The device has the high input impedance of a MOSFET and the low on-state conduction loss of a bipolar transistor. The much lower on-state voltage drop varies only moderately between 25℃ and 150℃.
Parametrics
HGTG30N60A4D absolute maximum ratings: (1)Collector to Emitter Voltage, BVCES: 600 V; (2)Collector Current Continuous: At TC = 25℃, IC25: 75 A; At TC = 110℃, IC110: 60 A; (3)Collector Current Pulsed, ICM: 240 A; (4)Gate to Emitter Voltage Continuous, VGES: ±20 V; (5)Gate to Emitter Voltage Pulsed, VGEM: ±30 V; (6)Switching Safe Operating Area at TJ = 150℃, SSOA: 150A at 600V; (7)Power Dissipation Total at TC = 25℃, PD: 463 W; (8)Power Dissipation Derating TC > 25℃: 3.7 W/℃; (9)Operating and Storage Junction Temperature Range, TJ, TSTG: -55 to 150℃; (10)Maximum Lead Temperature for Soldering, TL: 260 ℃.

Features
HGTG30N60A4D features: (1)>100kHz Operation At 390V, 30A; (2)200kHz Operation At 390V, 18A; (3)600V Switching SOA Capability; (4)Typical Fall Time: 60ns at TJ = 125℃; (5)Low Conduction Loss.

Diagrams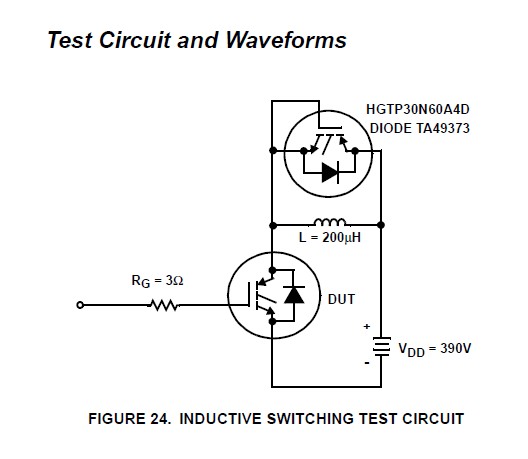 Image
Part No
Mfg
Description
Pricing
(USD)
Quantity

HGTG30N60A4D

Fairchild Semiconductor

IGBT Transistors 600V N-Channel IGBT SMPS Series

Data Sheet



| | |
| --- | --- |
| 0-1: | $6.37 |
| 1-25: | $5.23 |
| 25-100: | $4.72 |
| 100-250: | $4.34 |

Image
Part No
Mfg
Description
Pricing
(USD)
Quantity

HGTG11N120CND

Fairchild Semiconductor

IGBT Transistors 43A 1200V NCh w/Anti Parallel Hyprfst Dde

Data Sheet



| | |
| --- | --- |
| 0-1: | $2.31 |
| 1-25: | $2.08 |
| 25-100: | $1.90 |
| 100-250: | $1.71 |


HGTG12N60B3

Fairchild Semiconductor

IGBT Transistors 12A 600V UFS N-Ch

Data Sheet

Negotiable

HGTG30N60A4

Fairchild Semiconductor

IGBT Transistors 600V N-Channel IGBT SMPS Series

Data Sheet



| | |
| --- | --- |
| 0-1: | $5.05 |
| 1-25: | $4.55 |
| 25-100: | $3.73 |
| 100-250: | $3.44 |


HGTG20N60B3D

Fairchild Semiconductor

IGBT Transistors 600V IGBT UFS N-Channel

Data Sheet



| | |
| --- | --- |
| 0-150: | $2.34 |
| 150-250: | $2.11 |
| 250-500: | $1.90 |
| 500-1000: | $1.60 |


HGTG18N120BN

Fairchild Semiconductor

IGBT Transistors 54A 1200V N-Ch

Data Sheet

Negotiable

HGTG20N60C3D

Fairchild Semiconductor

IGBT Transistors UFS 20A 600V N-Ch

Data Sheet

Negotiable