Product Summary
The HCPL-3150 is a 0.5 Amp Output Current IGBT Gate Drive Optocoupler. The device consists of an LED optically coupled to an integrated circuit with a power output stage. The HCPL-3150 is ideally suited for driving power IGBTs and MOSFETs used in motor control inverter applications. The high operating voltage range of the output stage provides the drive voltages required by gate controlled devices. The voltage and current supplied by this optocoupler makes it ideally suited for directly driving IGBTs with ratings up to 1200 V/50 A. For IGBTs with higher ratings, the HCPL-3150 can be used to drive a discrete power stage which drives the IGBT gate. The applications of the HCPL-3150 are Isolated IGBT/MOSFET gate drive, AC and brushless dc motor drives, Industrial inverters, Switch Mode Power Supplies (SMPS), Uninterruptable Power Supplies (UPS).
Parametrics
HCPL-3150 absolute maximum ratings: (1)Storage Temperature: -55 to 125 °C; (2)Operating Temperature: -40 to 100 °C; (3)Average Input Current: 25 mA; (4)Peak Transient Input Current(<1 &micro;s pulse width, 300 pps): 1.0 A; (5)Reverse Input Voltage: 5 Volts; (6)"High"Peak Output Current: 0.6 A; (7)"Low"Peak Output Current: 0.6 A; (8)Supply Voltage: 0 to 35 Volts; (9)Output Voltage: 0 to vcc Volts; (10)Output Power Dissipation: 250 mW; (11)Total Power Dissipation: 295 mW.
Features
HCPL-3150 features: (1)0.6A maximum peak output current; (2)0.5 A minimum peak output current; (3)15kV/μS minimum Common Mode Rejection (CMR)at VCM=1500 V; (4)1.0 V maximum low level output voltage (VOL)eliminates need for negative gate drive; (5)ICC=5 mA maximum supply current; (6)Under Voltage Lock-Out protection (UVLO)with hysteresis; (7)Wide operating VCC range: 15 to 30 volts; (8)0.5μs maximum propagation delay; (9)+/-0.35μs maximum delay between devices/channels; (10)Industrial temperature range: -40℃ to 100℃; (11)Safety and regulatory approval: UL recognized (UL1577), 3750 Vrms/1 min; IEC/EN/DIN EN 60747-5-2 approved; VIORM = 630 Vpeak (HCPL-3150 option 060 only); VIORM = 891 Vpeak (HCPL-315J)CSA certified.
Diagrams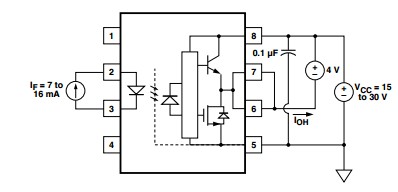 Image
Part No
Mfg
Description
Pricing
(USD)
Quantity

HCPL-3150

Avago Technologies

Logic Output Optocouplers 0.5A IGBT Gate Drive

Data Sheet



| | |
| --- | --- |
| 0-280: | $1.16 |
| 280-500: | $1.10 |
| 500-1000: | $1.04 |
| 1000-2000: | $0.97 |


HCPL-3150#060

Avago Technologies

Logic Output Optocouplers 0.5A IGBT Gate Drive

Data Sheet



| | |
| --- | --- |
| 0-280: | $1.19 |
| 280-500: | $1.12 |
| 500-1000: | $1.06 |
| 1000-2000: | $0.99 |


HCPL-3150#560

Avago Technologies

Logic Output Optocouplers 0.5A IGBT Gate Drive

Data Sheet



| | |
| --- | --- |
| 0-590: | $1.14 |
| 590-1000: | $1.07 |
| 1000-2000: | $1.01 |
| 2000-5000: | $0.94 |


HCPL-3150#500

Avago Technologies

Logic Output Optocouplers 0.5A IGBT Gate Drive

Data Sheet



| | |
| --- | --- |
| 0-590: | $1.12 |
| 590-1000: | $1.06 |
| 1000-2000: | $0.99 |
| 2000-5000: | $0.92 |


HCPL-3150#360

Avago Technologies

Logic Output Optocouplers 0.5A IGBT Gate Drive

Data Sheet



| | |
| --- | --- |
| 0-225: | $1.34 |
| 225-250: | $1.21 |
| 250-500: | $1.14 |
| 500-1000: | $1.07 |


HCPL-3150#300

Avago Technologies

Logic Output Optocouplers 0.5A IGBT Gate Drive

Data Sheet



| | |
| --- | --- |
| 0-280: | $1.19 |
| 280-500: | $1.12 |
| 500-1000: | $1.06 |
| 1000-2000: | $0.99 |


HCPL-3150-500E

Avago Technologies

Logic Output Optocouplers 0.5A IGBT Gate Drive

Data Sheet



| | |
| --- | --- |
| 0-1: | $1.82 |
| 1-25: | $1.49 |
| 25-100: | $1.32 |
| 100-250: | $1.19 |


HCPL-3150-000E

Avago Technologies

Logic Output Optocouplers 0.5A IGBT Gate Drive

Data Sheet



| | |
| --- | --- |
| 0-1: | $1.78 |
| 1-25: | $1.46 |
| 25-100: | $1.30 |
| 100-250: | $1.16 |