Product Summary
The 4082IBZ is a CMOS and gate, provides the system designer with direct implementation of the AND function and supplement the existing family of CMOS gates. The 4082IBZ is supplied in 14-lead hermetic dual-in-line ceramic packages (F3A suffix), 14-lead dual-in-line plastic packages (E suffix), 14-lead small-outline packages (M, MT, M96, and NSR suffixes), and 14-lead thin shrink small-outline packages (PW and PWR suffixes).

Parametrics
4082IBZ absolute maximum ratings: (1)DC SUPPLY-voltage(Vdd) Voltages referferenced to Vss Terminal): -0.5V to +20V; (2)Input voltage range, all inputs: -0.5V to VDD +0.5V; (3)DC inpot curftent, any oneinput: ±10mA: 500mW; For Ta=100℃ to +125℃: Derate LirwarHy at 12mW/℃ to 200mW; (4)device dissipation per output transistor, FOR TA= FULL package-temperature range (All Package Types): l00mW; (5)Operating-temperature range (TA): -55℃ to +125℃; (6)STORAGE TEMPERATURE RANGE (Tstg): -65℃ to +150℃; (7)Lead temperature (during soldering): At distance 1/16 ± 1 /32 inch (1.59 ± 0,79mm) from for 10s max: +265℃.

Features
4082IBZ features: (1)Medium-Speed Operation — tpLH, tpHL = 60 ns (typ.) at VDD = 10V ; (2)100% tufted lor quiescent current at 20 V; (3)Maximum input current of 1 fiA at 18 V over full package-temperature range; 100 nA at 18 V and 25℃Noise margin (full package-temperature range)- 1V at VDD = 5 V; 2V at VDD= 10 V; 2.5 V at VDD = 15 V; (4)Standardjzed, symmetrical output, characteristics; (5)5-V,10-V, and 15-V parametric ratings; (6)Mteti aH requirements of JEDEC Tentative StarMtard No, 13D, "Standard Specifications for Description of "B" Series CMOS Devices".

Diagrams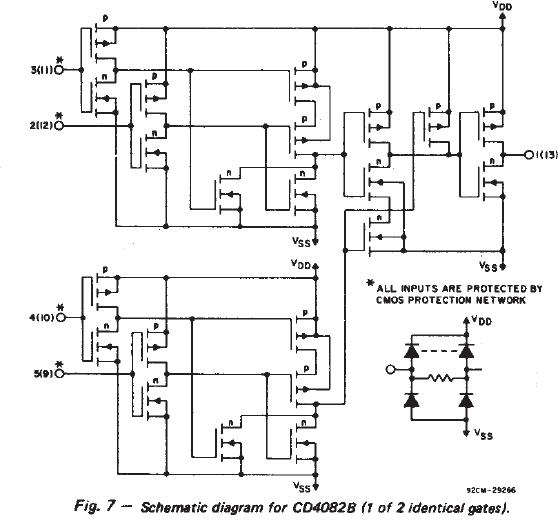 4082PA51H01800



GASKET FABRC/FOAM 2.5X9.5MM RECT

Data Sheet



| | |
| --- | --- |
| 0-1: | $2.65 |
| 1-10: | $2.46 |
| 10-50: | $2.27 |
| 50-100: | $2.20 |
| 100-250: | $1.97 |
| 250-500: | $1.82 |
| 500-1000: | $1.44 |


4082PA51H00092



GASKET FABRC/FOAM RECT

Data Sheet



4082

APM HEXSEAL

Switch Hardware RUBRGLAS SEAL-clear 11/16-32NS-2B THREAD

Data Sheet



| | |
| --- | --- |
| 0-1: | $5.44 |
| 1-10: | $4.90 |
| 10-25: | $4.45 |
| 25-125: | $4.25 |


40821

Other



Data Sheet

Negotiable